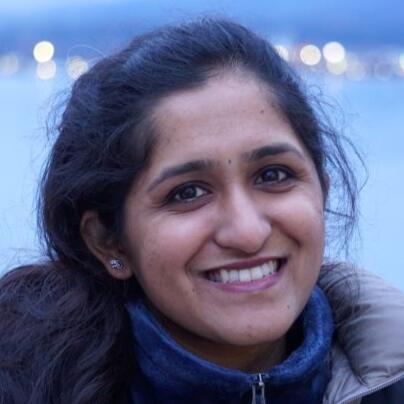 Shruti Sridhar Murthy
---
Leadership Coach
My purpose as a coach is to be a catalyst who enables transformation of people and results. For this, I partner with my clients, whether they are leaders, entrepreneurs or individuals towards meaningful changes that really matter to them by working with them at 3 different levels:
• Thinking - Shifting perspectives
• Doing - Moving from Intention to Impact
• Being - Bringing out our best selves
About me
I care about making a meaningful difference in the world through my work, I enjoy working with people and I am good at sifting through complex challenges to get to the heart of the matter.

I am also fascinated by all things that enable impact - our perspectives, the choices we make, the intention we set and the actions we take, the power of the stories we tell ourselves and those we get inspired by, the courage we show when we are afraid, the resilience we show when things don't always go as per plan, and last but not the least the space we give ourselves to learn and have fun in the process.

Coaching allows me to combine my passion and profession because it is at that sweet spot of what I care about, what I enjoy, what I am fascinated by and what I am good at.

My credentials
I am an Associate Certified Coach from the ICF and a Certified Professional Coach from the International Coach Academy, Australia. I have an MBA from the Kelley School of Business (Indiana University, USA) and a background in Technology and Innovation Consulting. My coaching clients have included President of a well-known brand, CEOs of Small Businesses, Founder of a Non-profit, Senior Executives at for-profit and not-for-profit entities, CTO at a growing startup, Lawyers, Consultants, a Diplomat, and Current + Aspiring Entrepreneurs.
About You
You are a leader with the responsibility of a team or organisation
You could be a small business owner, an entrepreneur or a leader in a corporate or non-profit firm. You are also human and while you give it all that you have got, it can sometimes get lonely at the top, especially when things get tough. Each of us no matter how much we are on top of our game could benefit from having an objective sounding board, a challenger and a confidante rolled into one. That's the role I will play as your coach.

You are a first time leader or a leader in transition
You are a new leader or your responsibilities as a leader have just increased. Those who were your peers may now suddenly be reporting to you or you may have been brought on board to turn-around the results of the team or company. While this change in scenario can be very gratifying, if we're being honest with ourselves, it can also be scary. Congratulations on earning yourself the title, it's definitely a cause for celebration. Now it's also time to earn yourself the satisfaction of being great at your new role and I am here to partner with you through that journey.

You are a changemaker or purpose-driven leader
You could be a social entrepreneur, a philanthropist, a social innovator, someone running an NGO or working with a Foundation. You are a changemaker because you have chosen a path less-trodden, one focused on running a socially conscious business that allows you to leverage your business and skills for the greater good. As your coach I will work with you around prioritising yourself as well while you prioritise your impact.

You are an aspiring leader
You are ready to take on more, both in terms of responsibility and recognition. You have the intention but need help with the action. Or you may want to start from the question 'What's the impact you want to have as a leader?'. Whatever your start point is, I will be happy to meet you there as your coach and be there to support you all the way.

You may not have the title of a leader but are committed to learning & growth
You could be someone with an aspiration to make a difference in the world or a mother trying to manage work and home. You could be someone wanting to work on a long-term goal, an interesting opportunity or a specific challenge you are now ready to take on. Or you could simply be someone wanting to invest in your growth as an individual. If you are willing to take charge of your situation or are committed to make a change, you've embarked on your personal leadership journey and to me you are a leader, title or not. As your Coach, my role here will be that of a catalyst on your journey of impact and transformation.
Services
One on One Coaching for Individuals and Corporates
I work with clients from across the world through One on One Coaching sessions via Zoom or Skype, for durations that range between a few sessions to a full year. Feel free to get in touch if you would like to explore working together. I will be happy to discuss your unique requirement and co-create a coaching program that would work best for you.

Covid19 Coaching Support
These are unprecedented times everywhere in the world and I believe Coaching can support people through these times, now more than ever. I am launching 3 initiatives specifically for this period:
'100 Leaders, 100 Challenges'
To support leaders through coaching during this period, especially since this situation is as unexpected for you as it is for others but you still need to take charge and lead as there are many people looking up to you, depending on you.
'Growing, not just surviving'
To support individuals who are lucky enough to be home and well, and want to use this time to focus on an area of personal or professional growth.
'Thank you essential workers'
As a special mark of gratitude to those of you who are a doctor or nurse or someone who is helping others from the frontline of this battle, I would like to offer you probono coaching all the way till this is over.

If you are interested in any of the above initiatives or have any questions, please contact me.
Services
---
Covid19 Special Services
These are unprecedented times everywhere in the world and I believe Coaching can support people through these times, now more than ever. I am launching 3 initiatives specifically for this period:

I am pledging 200 Hours of Coaching at "NO FEE"
across the COVID19 offerings below.
For any questions or if you are not able to find a suitable slot, Send me message here
Drop me a message here and I will get in touch with you!
Thank You
Thank you for your enquiry. I usually respond within 3 business days.
Talk to you soon!